Save our children's souls
Editorial Board

The Jakarta Post
Jakarta |

Fri, September 14, 2018

| 08:20 am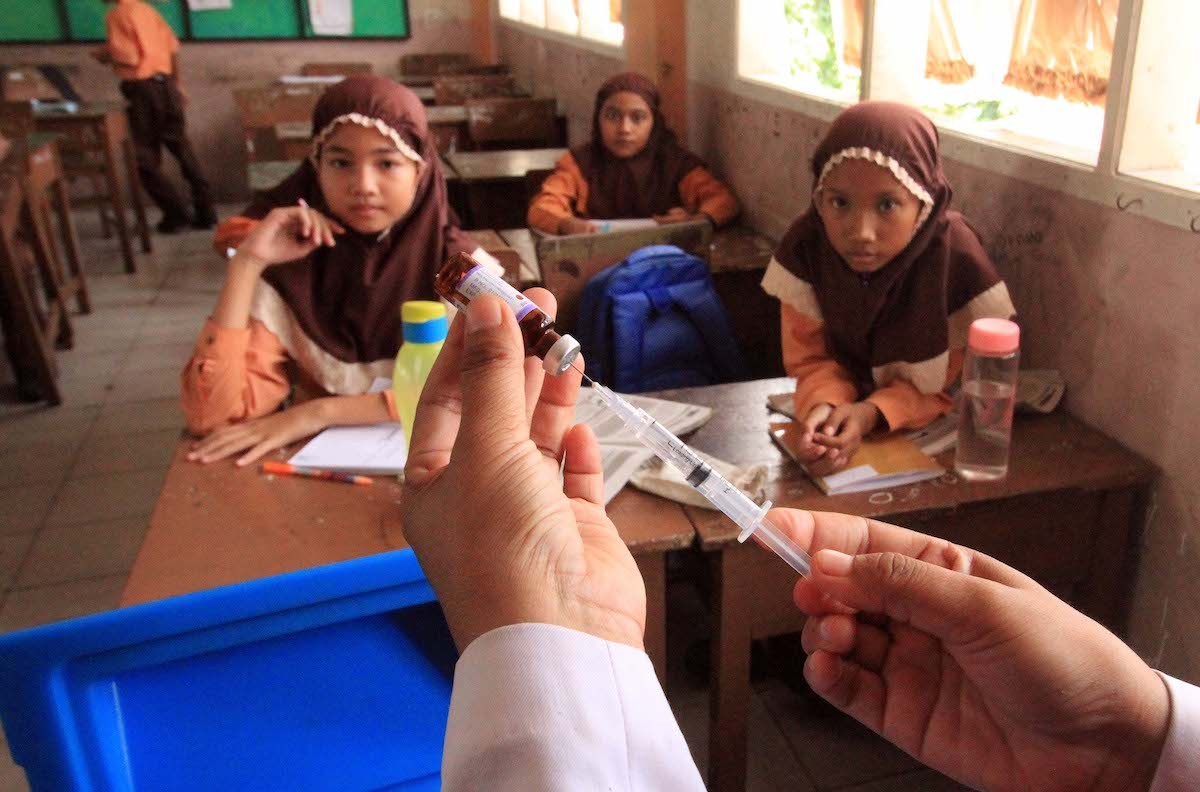 By the end of this month, 95 percent of children should have received the measles-rubella (MR) vaccine in the second phase of the national immunization program. (Antara/Rahmad)
By the end of this month, 95 percent of children should have received the measles-rubella (MR) vaccine in the second phase of the national immunization program. Alarmingly, national coverage for the 32 million infants has barely reached 43 percent according to the government's latest figures. At least 95 percent coverage is required to achieve "herd immunity" against the diseases.

Because of the low coverage, authorities have warned us to brace for an outbreak, as anyone coming into contact with a carrier of measles will likely be infected, doctors say. They warn it could be fatal to those who have not received the vaccine, particularly with complications such as diarrhea, pneumonia and meningitis.

Similarly, rubella poses a risk to women in the early stages of pregnancy, as exposure can lead to fetal death or defects of several organs. In the last five years, 70 percent of rubella cases have been children under 15 years old, the Health Ministry says.

At a Wednesday meeting of diverse ministries at the Executive Office of the President, a deputy, Yanuar Nugroho, said the government would step up its campaign involving local officials, governors and religious local leaders, among others, clearly as a last-ditch effort to meet the target. Though late — with Aceh's coverage dangerously low at below 5 percent — it seems to be the only measure available.

In Jambi, a newborn reportedly died because of the rubella virus; in the same regency of Batanghari, 57 cases of rubella had been recorded over the past 20 months. South Kalimantan has reported suspected rubella outbreaks.

While vaccination programs evidently require special efforts to serve remote areas, authorities look unprepared for resistance to the latest program, though similar problems had plagued the program for diphtheria.

While one obstacle has been parents' fears of negative health effects of the vaccines on infants, another has been the recent fatwa of at least one chapter of the Indonesian Ulema Council (MUI) in Riau saying the MR vaccine is haram. Actually, MUI's fatwa says that although the vaccines contain a haram substance derived from porcine, they are allowed as an emergency against a health threat. Once halal vaccines are available, today's products will be ruled haram.

Such a fatwa has helped Indonesia's largely successful vaccination programs for decades. Our success or failure regarding immunization is a contributing determinant of national and regional public health.

Authorities say they may need the police's help to avoid an epidemic, citing one incident where health workers faced a machete-wielding civilian who resisted vaccinations. Emphasis should nevertheless be on public education of the risks of failure of the immunization program. Indeed, the New Order's family planning program was an international model of success, sanctioned by ulema, but also remembered for its iron-fist approach. Today, electoral politics with religious colors overshadow well-intended efforts, including public health actions.

For the sake of infants' lives and health, the government must push on as hard as possible while appealing to the sensibility and wisdom of all local leaders and parents.
Topics :
Join the discussions